How to Send a Fax via Email using DirectFax Email Services
This tutorial explains how to send a fax via email using DirectFax after having established a Mail flow Connector in your email domain.
---
Info, Notes and Warnings
Please note that a connector must be added to your organization's email domain as well as involvement with etherFAX before performing these steps.
More information on acquiring this feature can be attained from etherFAX Sales at sales@etherfax.net.
---
Prerequisites
Before reading these instructions be sure that the following prerequisites are met:
An email domain entry validated by etherFAX.

A connector created in your Microsoft 365 or Google Workspace email domain.

A user within your etherFAX validated email domain of the same name that is allowed to send faxes through your email connector.
---
Instructions
How to send a fax via email using DirectFax email services
Start a new email and insert a compatible file (alternatively, you can type out a message to fax).


From there, in the To field, enter a fax number using the following format.

[faxnumber]@directfax.net or [faxnumber]@directfax.ca depending on what you have used when setting up your connector. The format you decide will be dependent on whether your organization is configured to the United States (@directfax.net) or to Canada (@directfax.ca).

For example:


Once your message looks good and the attachment is finished uploading, click Send.


After your message has been completed, you will receive a notification at the same user regarding the status of your fax: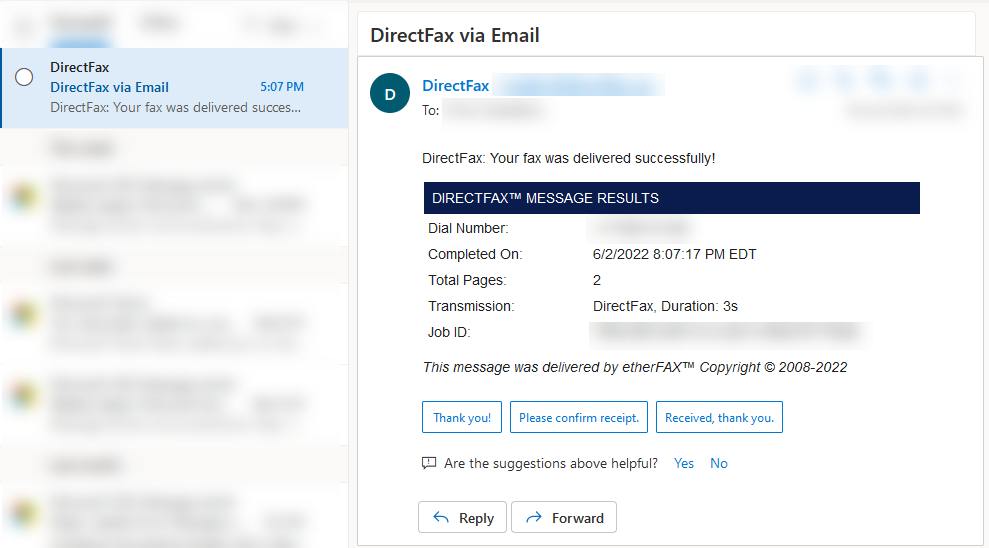 You have now successfully sent out a fax via email!
---
Ending Notes and Details
Only the following file types are accepted when adding an attachment to a fax submission:
.TIFF

.PDF

.JPEG

.PNG

.GIF

.BMP

.DOC/.DOCX

.XLS/.XLSX

.PPT/.PPTX
---
Related articles